Hands-On Piano
Hands-On Piano aims to explore the intersection between artistic practice/production and academic research in this specific instrumental area, with a special focus on the relation between reflexive aspects, remix practices and aesthetic appreciation in relation to piano performance.
Within this scope, Hands-On piano involves the exploration of performance practices across genres, from western art music to jazz and improvised music, from the soloist to the chamber musician/ensemble perspective, and from pedagogical approaches to the demands of the music industries.
Proposals for papers and lecture-performances related to the impact of artistic research in/and the reinvention of piano performance are particularly welcome. While this focus embraces a wide range of topics – such as improvisation and music creation with the piano, pedagogies for and with the piano, piano performance techniques, 21st century piano repertoire, extended techniques and experimental approaches, interaction between piano and electronics, construction and innovation of pianos and digital pianos – other aspects of piano performance and formats other than papers and lecture-performances will also be considered.
We are delighted to welcome Darla Crispin (Canada/Norway), Ian Pace (England), Lina Navickaitė-Martinelli (Lithuania), Erato Alakiozidou (Greece) and Joana Sá (Portugal) to Hands-On Piano, where they will deliver keynote addresses, recitals and masterclasses. Further invited speakers/performers for Hands-On Piano are to be announced in the following weeks.
---
Hands-On Piano Program: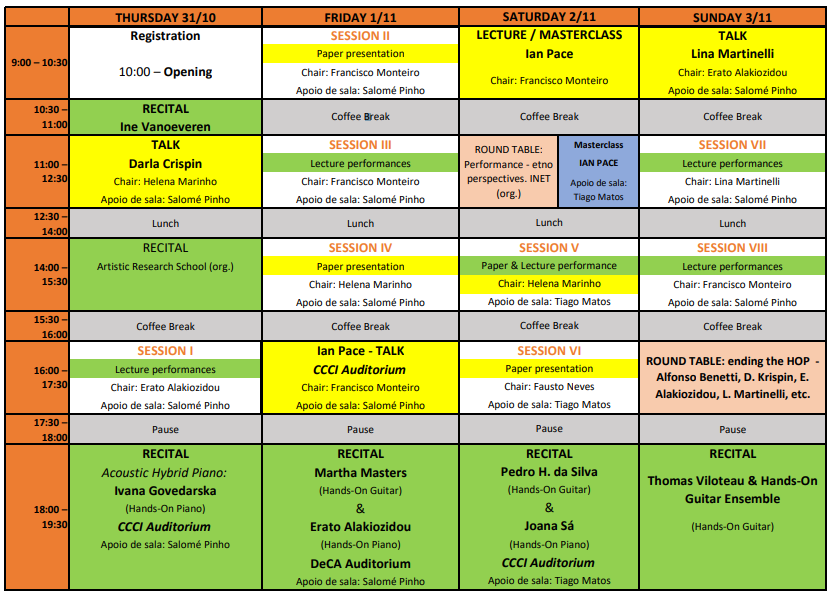 ---
SESSIONS:
SESSION I – Lecture performances, 31st October (16:00 – 17:30):
Bernardo Santos
Forgotten Portuguese piano repertoire and its rediscoveries: The Theme and Variations by Frederico de Freitas
Pablo Marquine da Fonseca
Claudio Santoro, Música Viva, and the Emergence of German Modernism in Brazilian Music
SESSION II – Paper presentation, 1st November (9:00 – 10:30):
Diogo Sousa Vilas Monzo
Trio Corrente and Paquito D'Rivera: Improvisation, a Practice of Performance
Susana Castro Gil & Ana Cláudia de Assis
Does a Parnassus exist for us?: Process of a transcriational proposal for Clementi's Piano Etudes Op.44 n.16 and 17
Pablo Gómez Ábalos
Performing on the Clavecin roïal: the keys for the musical sublime
SESSION III – Lecture performances, 1st November (11:00-12:30):
Motiejus Bazaras
Rethinking Habits of Practicing through Nicolas SLONIMSKY Thesaurus Of Scales And Melodic Patterns
 and Jerry BERGONZI Inside Improvisation series
Laia Martin
Beyond boundaries: challenges when rethinking the performance of transcriptions
SESSION IV – Paper presentation, 1st November (14:00-15:30):
Felipe de Almeida Ribeiro
Text and voice in music composition processes: strategies for defamiliarisation
Gabriela Mayer
Rhetorical and Linguistic influences in Solo Piano Music from Mozart to Liszt
Agne Jurkuniene
Art and Craft: synthesis and differentiation in pianist-accompanist activities
SESSION V – Paper presentation + Lecture performance, 2nd November (14:00-15:30):
Agnieszka Lasko (Paper presentation)
Improvisation ideas for children beginning their piano education
Claudia Knafo (Lecture performance)
Discovering Latin American Music in Your Teaching
SESSION VI – Paper presentation, 2nd November (16:00-17:30):
Maria Bernardete Castelan Póvoas
Anticipation and Movement Cycles principles applied to piano gesture in Frederico de Freitas' Piano Sonata technical strategies and sound results
Michele Rosita Mantovani, Helena Marinho & Regina Antunes Teixeira dos Santos
Perspectives of deliberation on piano practice within different levels of expertise: procedures, effort and limits of attention
Denise Maria Bezerra & Francisco Antônio Pereira Fialho
Back to piano study with active imagination: a case study
SESSION VII – Lecture performances, 3rd November (11:00-12:30):
Julian Hellaby
Topicality in the Piano Music of John Ireland: a performer's perspective
Kate Ryder 
Memory and recollection: echoes from one who disappeared
SESSION VIII – Lecture performances, 3rd November (14:00-15:30):
Andrés Felipe Molano Ruiz
The futurist movement in Leo Ornstein's early piano solo music
Ana Filipa Neves Ferreira
Sino-Western interculturality in Áureo Castro´s piano works: A research on performative approaches