Hands-On Guitar
Hands-On Guitar aims to provide an overview and discussion of the artist research praxis across the old and new world. Therefore, we welcome the valuable insights of performers, composers and researchers and their innovative contributions to artistic and aesthetic features of classical guitar music.
We are glad to welcome world-class musicians such as Martha Masters, Helen Sanderson, Jonathan Leathwood, Thomas Viloteau and Pedro Henriques da Silva to Hands-On Guitar at the University of Aveiro.

Hands-On Guitar will feature multiple activities (concerts, conferences, masterclasses, lecture-performances, paper presentations, a guitar ensemble created specifically for this occasion) and this array of events will appeal to a wide audience from every age and level.
---
Hands-On Guitar Program: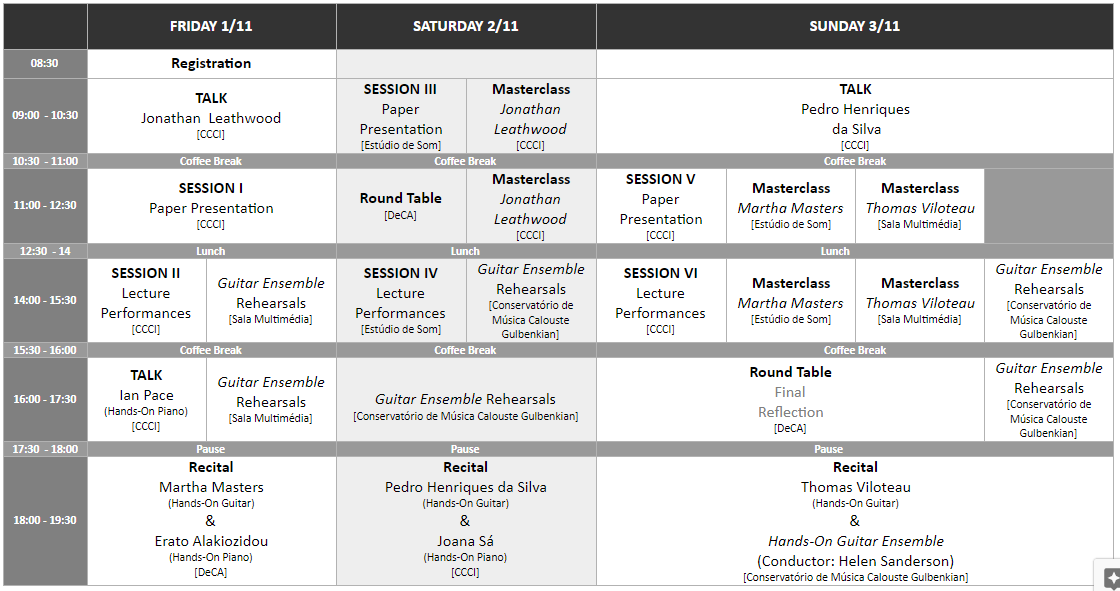 ---
SESSIONS:
November 1st (11:00 - 12:30)
SESSION I Paper Presentation / Chair: Maria Paula Marques
Rui Mourinho
"The Musical borrowing performance implications in Stephen Goss's Watts Chapel (2015) for solo guitar"
Augusto Pacheco
"Alberto Ponce Recordings"
Emanuel de Carvalho Nunes
"Composition of didactical pieces in Brazilian Music for solo guitar"
November 1st (14:00 - 15:30)
SESSION II Lecture-Performances / Chair: Samuel Peruzzolo
Fábio Bartoloni
"Brouwer on Giacomo Bartoloni: the perception of a composer's work through a gap of 37 years"
Leon Salcedo
"Improvisation and mechanism: An approach to the performance of the Douze Etudes pour Guitare by Heitor Villa-Lobos"
November 2nd (9:00 - 10:30)
SESSION III Paper Presentation / Chair: Miguel de Laquila
David Cotter
"The Collaborative Classical Guitar: Reassessing the Role of Accompanist"
Pedro Lopes Baptista
"Jorge Peixinho's interpretative gestures reflected in his guitar music: analysis and performance"
Grégory Leclair
"Guitar makers in Naples between the end of the 18th century and the middle of the 19th century"
November 2nd (16:00 - 17:30)
SESSION IV Lecture-Performances / Chair: Miguel de Laquila
Emanuel de Carvalho Nunes
"Studies for Brazilian solo guitar: Lecture-performance"
David Cotter
"Classical Guitar & Live Electronics with Dynamic VR Score: Hands-On Research in a New Collaborative Work"
November 3rd (11:00 - 12:30)
SESSION V Paper Presentation / Chair: Augusto Pacheco
Ricardo Nuno Alves Pereira
"Musical Narratives for Performers"
Jörg Holzmann
"Schumann's Träumerei and the guitar – Historical recordings as witnesses of musical taste in adaption and interpretation"
Samuel Peruzzolo Vieira and Marlou Peruzzolo Vieira
"Composing For Guitar: a guitarist and a composer working in collaboration"
November 3rd (14:00 - 15:30) 
SESSION VI Lecture-Performances / Chair: Miguel de Laquila
Matilde Oppizzi
"New Idiomatic Music for Classical Guitar by the Means of Stylometry: A Symbiotic Collaboration Between Composer and Performer"
Leon Salcedo and Tatiana Perilla
"Performance, archive and analytical description of selected Latin American works for violin and guitar. 20th and 21st century"
---