Hands-On Choral/FICA'19
Hands-On Choral aims to explore choral singing across genres, from western art music to traditional multipart singing traditions. 
This international conference will provide a space for conductors, choral singers and researchers to meet and share their experiences relating to the various facets of choral singing. This includes different performance contexts, such as collective and individual rehearsal, public performances, and also the social, physical and psychological impact of these activities. 
We are delighted to welcome keynote speakers Ēriks Ešenvalds, Liz Garnett and Patrick Freer to Hands-On Choral/FICA'19.
The third edition of FICA'19, the international choral festival and competition organised by Voz Nua – Associação Cultural, will take place in conjunction with Hands-On Choral. Participating choirs and conductors will have free entry to all Hands-On conference events and are actively encouraged to participate in the conference, as a means of further promoting the articulation between artistic production and artistic research. Similarly, Hands-On Choral participants will have free access to all FICA events. 
Proposals for papers and lecture-performances are particularly welcome, although other formats (e.g. workshops/panel discussions/reading sessions) will also be considered.
The call is now open and the deadline for abstract submissions is JULY 7th, 2019 (NEW DEADLINE).  Full details are available here. 
Choirs wishing to participate in FICA'19 should consult: https://www.voznua.com/en/fica/about
---
Hands-On Choral Program: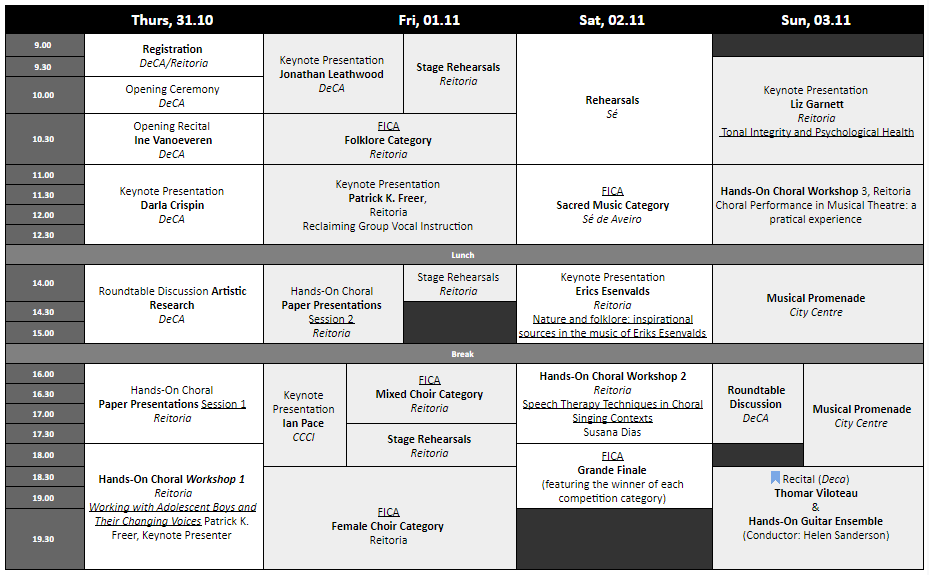 ---
SESSIONS
SESSSION 1 (Reitoria)
Entrepreneurship and educational impact: The "Voices for living together" choral project
Alfonso Elorriaga (Universida Autónoma de Madrid)
Music, Environment and Voice: Creative Sounds
Paula Molinari (Universidade Federal de Maranhão)
---
SESSION 2
Conducting Amateur Choirs
Raquel Almudéver (Universita Politécnica de València)
Expressiveness in Choral Conducting: an approach from nonverbal communication
Ana Val (Colégio Británico de Aragón)
Boys' changing voice and vocal agency: Narratives of students in two music secondary schools in Greece 
Antonis Ververis (University of Ioannina)