FLUTE  'Hands on' Research is a meeting dedicated to the area of the flute, and is unique due to its symbiosis between two types of meetings: the convention, of an artistic nature which concentrates on a particular instrument (such as the British Flute Society Convention 2016, for example) and the traditional academic research conference, but focusing on an instrumental area. 'Hands on' Flute aims to bridge the gap between artistic production and academic research, creating opportunities to combine the artists' and the researchers' knowledge, for mutual benefit.
---
Past editions
FLUTE: Hands on Research 2017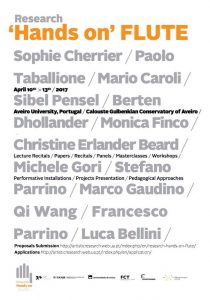 The University of Aveiro, INET-md (Institute of Ethnomusicology, Centre for Studies in Music and Dance) and the Associação Portuguesa de Flautas, hosted the research meeting Research 'Hands on' FLUTE, in Aveiro, Portugal, from the 10th to the 13th of April, 2017.
This research meeting aimed to bring artistic production and academic research closer together, creating opportunities to combine the artists' and the researchers' knowledge, having as a result benefits for all. The invited keynotes speakers and performers were: Sophie Cherrier; Paolo Taballione; Mario Caroli; Sibel Pensel; Berten Dhollander; Monica Finco; Christine Erlander Beard; Michele Gori; Oscar De Manuel; Qi Wang; Marco Gaudino; Leonardo Winter; Luca Bellini, Jorge Caryevschi
Organization
Associação Portuguesa de Flautas (APF)
Departamento de Comunicação e Arte
Instituto de Etnomusicologia Centro de Estudos em Música e Dança (INET-md)
Universidade de Aveiro
 Organising committee
Alfonso Benetti
Ana Maria Ribeiro
Clarissa Foletto
Cristina Moreira da Silva
Jorge Salgado Correia (Coordenador)
Sara Silva
Scientific and Artistic Committee
Ana Maria Ribeiro, Casa da Música, Portugal
Angelina Rodrigues, Universidade de Aveiro, Portugal
Clarissa Foletto, Universidade de Aveiro/Inet-md, Portugal
Jorge Salgado Correia, Universidade de Aveiro/Inet-md, Portugal
Leonardo Winter, Universidade Federal do Rio Grande do Sul, Brasil
Manuel Morales, Conservatório Superior Vigo, Espanha
Pedro Couto Soares, Escola Superior de Música de Lisboa, Portugal
Monika Steitová, Universidade de Évora/Inet-md, Portugal
Pedro Sousa e Silva, Escola Superior de Música e Artes do Espetáculo, Portugal
Raquel Lima, Escola Superior de Música e Artes do Espetáculo, Portugal
Sergio Barrenechea, Universidade Federal do Estado do Rio de Janeiro, Brasil
Executive Committee
Ana Maria Ribeiro
Célia Silva
Daniela Gomes
António Freitas
Marcelo Alves
Sara Daniela Silva
Jorge Salgado Correia
Image
Álvaro Sousa